5
min read
Finding out how much a million dollar life insurance policy costs can be a daunting task. Multiple factors determine the cost of a policy, including how old you are,  your health condition, and your sex. On top of that the type and length of coverage you take also affects the cost. While that all may seem complicated,  $1,000,000 worth of life insurance coverage may not cost as much as you assumed. 
If you want to find out immediately how much one-million dollars of life insurance coverage would cost , go ahead and get a free online quote from us immediately (it only takes a few minutes). For more details on pricing and how it's determined – read on.
How much does $1,000,000 of term life insurance cost?
Term life insurance is coverage that lasts for a specific period of time you choose when applying for the policy. That term can be a fixed number of years – (10 and 20 years are the most common terms) or until you reach a certain age (again, a common age to end coverage is 65 years old). You pay premiums (usually monthly) to your life insurance provider until the expiry of the term.
In return, your beneficiaries receive a tax-free death benefit if you die within the policy term you set out. Once that term ends your coverage expires, and you can then stop paying the monthly insurance premiums.
Learn more about term life insurance here.
The pricing for term life insurance is based on the length of term, the amount of the death benefit, and the health, age, and smoking status of the applicant. For the purposes of this post we are looking at a death benefit of $1,000,000.
Term life insurance costs – Male, $1,000,000 Coverage

Age
10-year Term
20-year Term
Non-Smoker
Smoker
Non-Smoker
Smoker
30
$37.71
$79.12
$57.10
$96.65
35
$38.43
$86.18
$58.59
$151.62
40
$51.40
$126.65
$87.15
$244.06
45
$78.35
$214.07
$140.10
$394.88
50
$127.54
$378.79
$234.81
$635.05
55
$221.71
$640.87
$426.17
$1,062.69
60
$384.19
$982.35
$770.95
$1,641.14
65
$679.28
$1,629.18
$1,427.85
$2,740.05
How much life insurance coverage do you need?
Our calculator quickly determines your insurance needs
Looking for the fastest, lowest insurance quotes?
If you know what you need, get the best quotes instantly
Term life insurance costs – Female, $1,000,000 Coverage

Age
10-year Term
20-year Term
Non-Smoker
Smoker
Non-Smoker
Smoker
30
$25.65
$47.25
$40.05
$75.39
35
$28.26
$63.44
$44.55
$119.54
40
$36.63
$99.34
$64.36
$174.52
45
$54.45
$150.27
$99.73
$268.20
50
$85.60
$230.97
$161.76
$421.20
55
$151.19
$351.64
$299.98
$654.71
60
$269.37
$563.52
$544.69
$1,020.45
65
$449.97
$866.82
$959.85
$1,752.75
Why do I need a million dollars of life insurance coverage?
Different personal financial situations will dictate one's need for a substantial benefit. While your needs will be unique to yourself and those you are aiming to financially protect, some of the many reasons Canadians contemplate a million dollars of life insurance include:
Covering an outstanding mortgage debt, loans, or joint lines of credit

The cost of living for a partner, children, or other dependents left behind

Education costs for children who are no longer legally dependent but still looking to you to help with these costs

Covering a business partner to ensure the survival of the business should something happen to you
If you are not sure if a million dollars of life insurance is the right amount for your circumstances, there's an easy way to check the numbers. Check out our life insurance calculator; it only takes 5 minutes to answer a few basic questions and reveal exactly how much coverage you need.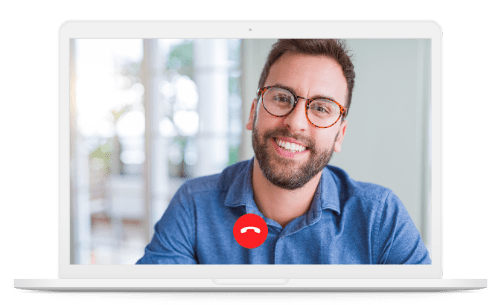 Need insurance answers now?
Call 1-888-601-9980 to speak to our licensed advisors right away, or book some time with them below.
How do I get the best quotes for $1,000,000 of life insurance coverage?
At PolicyAdvisor, we help Canadians compare quotes from 17 of the country's best life insurance companies. We have helped many insurance seekers just like yourself find the right fit for their coverage needs. Book some time with our licensed advisors and find out how easy it is to get the right amount of coverage – from anywhere you can access your computer or phone.
Call us at 1-888-601-9980 or book time with our licensed experts.